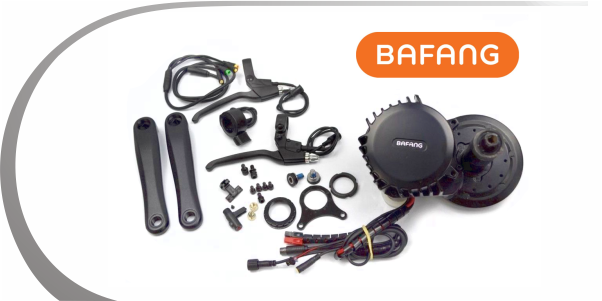 Bafang Middrive Motor Systems and Power Batteries
Bafang, one of the leading OEM manufacturers, has been developing components and complete systems for vehicles with electric drives since 2003.
As an official dealer of mid-engine conversion kits and batteries, we offer a wide range of original spare parts and exclusive accessories in the online shop.
Since 2014 we have been offering in-depth advice on converting an existing bicycle to a pedelec or even an e-bike with extreme performance.
Our mid-motors in stock offer an excellent price-performance ratio, we repair and offer services for Bafang motors, batteries and displays.
36V 250W Bafang BBS01 /B Mid-drive Motor


Learn More

Bafang MM.G340 BBS01/B 36V 350W Mid Drive Motor

Learn More

Bafang MM.G340 BBS02 48V 750W Mittelmotor Umbausatz

Learn More

Bafang M615 1000W BBS03 48V middrive motor kit


Learn More

Bafang BBS02 48V 500W - 750W Mid-drive Motor-Conversion Kits

Learn More